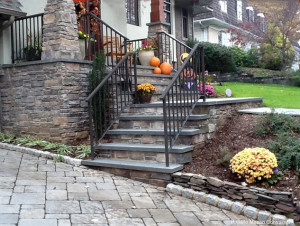 At R. Gallo Mason Contractor, we know that a well-designed brick or stone project can increase the value and curb appeal of your home or business. Whether you're contemplating a new brick home or business or simply want a backyard firepit, we invite you to browse through our photo gallery for ideas. You'll be amazed at the artistry & design that goes into our work!
R. Gallo Mason Contractor specializes in beautiful structural masonry construction, restoration and repair.
Some of our many services include:
Additions, Stucco, Plaster
Pools, Patios, Decks
Bluestone, Slate, Brick
Custom Stonework
Fireplaces & Firepits
Basement Waterproofing, Excavation
Steps, Sidewalks, Walkways, Driveways, Slab Pours
We are fully licensed and insured. We currently service the following counties in New Jersey: Union, Essex, Middlesex, Hunterdon, Ocean and Somerset.
So, call us today to discuss how we can make your home or business the showcase of the neighborhood.