Pavers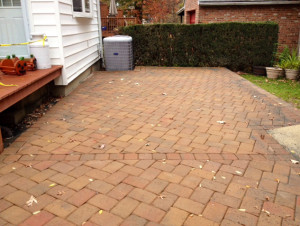 Pavers are the most versatile landscaping material that can be used for a variety of applications such as paths, steps, driveways, patios, pool surrounds and more.
Concrete pavers can be molded to look like flagstone, cobblestone, brick more.  They can be shaped into hexagons, interlocking bricks, irregular shapes, and more.
Stone pavers are quarried and cut to standard thicknesses and sizes. They are made from bluestone, marble, travertine, limestone, granite, marble and other stone varieties.
Brick pavers are made from clay and are available in an array of colors, such as white, yellow and numerous shades of red.
Composite pavers are made from used plastics and scrap tires and are considered energy-efficient because they release less carbon.
Patterns & Layouts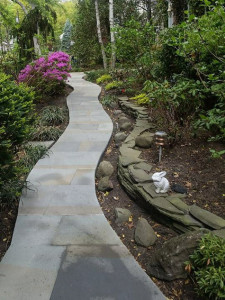 Pavers can be laid out in any number of ways such as:
Rectangular and curved
Herringbone
Basket weaves
Running bond
Stacked bond
Combination of the above and more
R. Gallo Mason Contractor will work with you on a customized design and pattern that will bring out your own unique design style.
Retaining Walls
Retaining wall structures are primarily constructed to hold back soil from an unnatural slope or where landscaping is being formed. At R. Gallo Mason Contractor, our 28+ years of masonry expertise will provide you with ideas and design solutions for your project.
Suggested Materials for Retaining Walls
There are a variety of types of retaining walls, and we can help you select the right material for the job.
Interlocking concrete blocks
Cinderblock
Brick
Mortar-less or dry-stacked field stone
Poured concrete
Wood
Every job is different, and R. Gallo Mason Contractor will ensure your retaining wall is there for many years to come.
Columns
It is all about the craftsmanship and quality of materials used that will take a project from just OK to spectacular. Russ Gallo is a master mason and is hands-on. He will design and create columns that will heighten the beauty of your entryway, driveway or front yard.
Columns can stand alone, provide structural integrity or be used for such items as fence support or mailboxes. Some of the more popular column structures include:
Brick or stone columns
Rising columns
Porch columns
Architectural columns
Greek columns
Corinthian columns
R. Gallo Mason Contractor offers a wide variety of masonry services and is licensed in New Jersey, serving Westfield, Cranford, Summit, Clark, Watchung and surrounding areas.
Click on the Houzz Logo to see more of our project photos.

Contact us today to schedule your FREE in-home design consultation.