At R. Gallo Mason Contractor, we pride ourselves on providing quality Old World craftsmanship and professional service. Foundations, slabs and excavation might not sound as glamorous as other projects on your list, but they are a necessary part of keeping your home safe and functional.
Foundations
A proper foundation not only holds up your house, it keeps out moisture, resists movement and insulates against the cold. Everything has to be perfect, from the base properly compacted to the being formwork set up right. At R. Gallo Mason Contractor, we will ensure that your foundation is tailored properly to the site by taking into consideration the water table, soil conditions, and backfill.
We offer a variety of foundation repairs:
Bowed Foundation Wall Repair
Cracked Basement Wall
Stucco Masonry
Stone Facings
Stone Restoration
… and more
Concrete Slabs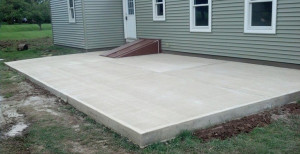 Pouring a concrete slab sounds easy, but if you have never done it before, it could be intimidating.  Russ Gallo is a master mason and has been pouring slabs for over 28 years.  He has experience and the tools to do the job right.
Concrete slabs are pretty common in both the home and building industry.  Because of its strength, durability, availability, ease of installation and cost, concrete makes a great material for foundations.
Excavation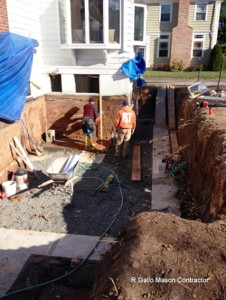 Excavation is more than just  hauling dirt.  It includes site readiness, trenching, and grading, just to name a few.  At R. Gallo Mason Contractor, we will ensure every excavation project is safe and efficient.  We have the expertise, skills and knowledge to ensure that your goals are met on time and on budget.  Regardless of your project, our excavation services will exceed your expectations.
At R. Gallo Mason Contractor, we take pride in offering a wide variety of masonry services. We are licensed in New Jersey, servicing Westfield, Scotch Plains, Cranford and surrounding areas.
Click on the Houzz Logo to see more project photos.

Contact us today to schedule a FREE in-home consultation and  to learn more about foundations, slabs and excavation work.